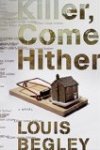 Killer, Come Hither
Nan A. Talese
April 7, 2015
ISBN#978-0-385-53914-2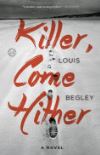 Paperback
Random House
Publishing Group
January 12, 2016
ISBN#978-0-553-39244-9
Reviews
The Washington Times Review of Killer, Come Hither by Corinna Lothar, July 30, 2015
27east Review of Killer, Come Hither--"Louis Begley Unlocks Thrilling Depth" by Fred Volkmer, April 29, 2015
Shelf Awareness Review of Killer, Come Hither by Jeanette Zwart, April 17, 2015
Profile
Wall Street Journal "Louis Begley: A Society Scribe Shifts to Thrillers" by Brenda Cronin--March 24, 2015
Book Jacket Synopsis
Jack Dana, a star history student at Yale with a bright future in academia, feels called to military service after 9/11. His career as a Marine infantry platoon leader is cut short by sniper fire that sends him to Walter Reed Hospital, where he begins writing a novel about his wartime experiences. Helping Jack through recovery is his uncle Harry, Jack's surrogate father and a partner in a leading New York law firm. Harry's connections secure Jack a publisher. His work is critically and commercially successful. Life after Afghanistan is falling into place, and a three-month trip to South America seems a fitting reward. But his return home is marred by shocking news: Uncle Harry is dead, hanged in his Sag Harbor summer home, clearly a suicide.
Horrified and incredulous, Jack digs into the facts surrounding his uncle's death. Aided by Harry's most trusted associate, Kerry Black, and by his college friend Scott Prentice, who now works for the CIA, Jack discovers that Harry had pierced the secret of his most important client, Abner Brown, a right-wing multibillionaire notorious for backing extremist causes. The stakes and dangers are huge. Harry's death now seems anything but a suicide.
Delays of law are not for Jack when it comes to avenging his uncle. He takes matters into his own hands. Louis Begley's taut, intelligent thriller takes readers from the knotty politics of New York law firms to the intimacy of life on the Long Island shore, all with his trademark wit and nuance.